Author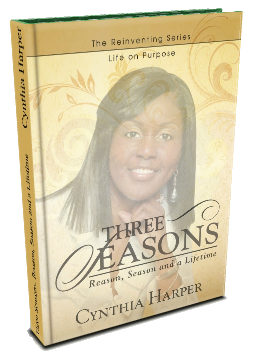 With a passion for creative writing, Cynthia Harper enjoys taking the human vernacular and putting an unusual twist on it. A lover of drama and story boarding since childhood, Cynthia conceptualizes life from a dimensional point of view. Through her writings, which include the book, "Three Seasons", Cynthia has brought liberation to herself and others. "Three Seasons" is a compilation of 21 inspirational and motivational topics identified as central to helping people live with purpose. Accompanied is a companion workbook which aims to help readers develop deeper revelation of themselves.
This book/workbook is a teaching tool which is best taught by the author. If you or your organization desire for Cynthia to facilitate/train on the material, please call (770-515-9863)
Additional works include, a one-act play entitled, "The Startling Secrets of Aunt Jemima", which is a fictional dramatization of the tale of the famous iconic character. The heartfelt stories highlight the wisdom of one of the world's most well-traveled women who appears to have been silenced. It turns out, however, that she is actually an information reservoir; a woman who has kept secrets for generations and has refused to talk until now. When watching the play, audiences will learn details of the secrets Aunt Jemima has kept over the decades as well as a concluding thought on the key to successful living. The play is in the preliminary stages of finding a producer. Stay tuned for more details on its journey to a stage.
The 5 M Purpose Journey- is a project developed to empower and coach women who need to reinvent themselves. This journey it is comprised of 5 modules: Motivation, Mental stress, Metabolism, Menopause and Money. The relevance of this project is significantly high as I understand without a support system, it's a very difficult to overcome massive setbacks. Aligning myself with trustworthy partners is one of the keys to the success of this project. When women are experiencing difficult times, balance is the key, with this credible initiative we aim to prepare and prevent leaning in the wrong direction. Imbalance health equals an imbalance lifestyle. At the culmination of this project, we will create a woman business incubator program (WBI) for existing and start-ups businesses. Ultimately five dedicated women from this program will be selected and gifted with the opportunity to become an entrepreneur.
Com…Plex…Shun, (CPS) is a stage production where African American women illustrate their intolerance of negative skin complexions and comparison. CPS is a choreographed performance demonstrating the value of collaboration, connectivity and cooperation creating a perfect blend.
Com-represents the communication needed, realizing the commonality and coming together
Plex-speaks to perplexities, difficulties and separation the issue of this behavior has created
Shun-coming together to eradicate shunning of one another
Three Hearts Vision Board Affair, Looking for an out the box, Lunch and Learn? Entreat C Harper to espouse its signature event, 3h Vision Board Affair. This affair has the ability to transform the heart of your business and associates through the stages of vision creation to vision fulfillment: Red plus Blue makes Purple.
Don't Fight It Out, Work It Out, (DFWO) is an exclusive campaign created for at-risk youth to prevent fighting, bullying and gang like behavior. Borrowing from the meaning one of the country's most pertinent and historical documents the (Preamble), from The United States Constitution, our goal is to teach this sect of youth, fundamental purposes and guiding principles. "We the People of the United States, in Order to form a perfect Union establish Justice, insure domestic Tranquility, provide for the common defense, promote the general Welfare, and secure the Blessings of Liberty to ourselves and our Posterity, do ordain and establish this Constitution for the United States of America.anti-bullying campaign geared to youth to demonstrate the value of establishing diplomacy vs. the danger of fighting.